Grilling Ideas for Memorial Day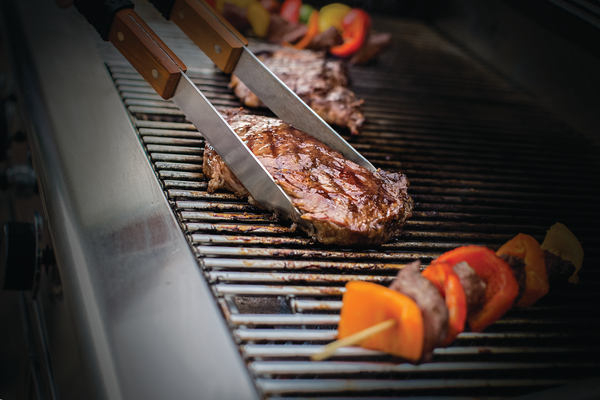 With the unofficial start to summer upon us, there is no better time to gather family and friends around the grill to celebrate Memorial Day with delicious food.  We have compiled several of our favorite grilling recipes from around the web to make your holiday planning a lot easier!
Grilled Chicken
Grilled chicken is a classic staple of any Memorial Day barbeque.  This versatile poultry can come in the form of wings, breasts or thighs and can be enhanced with a variety of flavors beyond typical barbecue sauce. Below are some of our web recipe favorites to take your grilled chicken up a notch:
3-Ingredient Garlic Herb Grilled Chicken Wings 3-Ingredient Garlic-Herb Grilled Chicken Wings Recipe | Epicurious. With only 3 main ingredients, this grilled chicken recipe is both simple and delicious.
Yummy Honey Chicken Kabobs Yummy Honey Chicken Kabobs Recipe | Allrecipes. Nothing is better done on the grill than chicken kabobs.  Simply marinate the chicken overnight so you're ready to grill when party time comes.
Southwestern Grilled Chicken with Lime Butter Southwestern Grilled Chicken With Lime Butter Recipe – Food.com. With ingredients like cocoa powder, brown sugar, chili powder and cinnamon, you know this grilled chicken will be full of flavor!
Grilled Steaks
Steaks are often best when grilled.  But, instead of just throwing raw meat on the grill, these recipes add amazing flavor to the grilling staple:
Beerbecue Beef Flank Steak Beerbecue Beef Flank Steak | Allrecipes. Beer is often used in grilled chicken, but this unique recipe uses beer to add flavor to flank steak. The heartier the beer used, the more flavor added to the steak.
Grilled Crusted Steak with Lemon Butter Grilled Crusted Steak With Lemon Butter Recipe – Food.com. Simple ingredients like a variety of spices, sirloin steaks, and butter make this recipe a hit.  There is no better addition to a grilled steak than butter infused with lemon, parsley and garlic.
Herb Crusted Filet Mignon Herb-Crusted Filet Mignon Recipe (thespruceeats.com). Simple spices give tender filet mignon a rich flavor.
Grilled Seafood
Seafood can be daunting to cook to some people, but these grilled seafood recipes are simple and flavorful:
Grilled Shrimp with Grilled Tomato Cocktail Sauce. Grilled Shrimp with Grilled Tomato Cocktail Sauce Recipe | Food Network Kitchen | Food Network. This recipe contains lightly seasoned shrimp, but the real star is the grilled cocktail sauce made by grilling the veggies and then pureeing them in a blender.
Grilled Salmon with Citrus Salsa Verde. Grilled Salmon with Citrus Salsa Verde Recipe | Giada De Laurentiis | Food Network. Fresh citrus flavored salsa adds a sweet flavor to grilled salmon.
Grilled Scallops. Grilled Scallops Recipe | EatingWell.  Simple ingredients like butter, lemon and oregano add a touch of flavor while letting the true taste of the scallops shine through.
Fire up the Grill
With these delicious recipes as your guide, it's time to gather your friends and family to celebrate Memorial Day with a backyard barbecue!  We at Superior Plus Propane wish a Happy Memorial Day to all!
"*" indicates required fields